Erasure Poems
Posted on:

12 May 2021

By:

Tony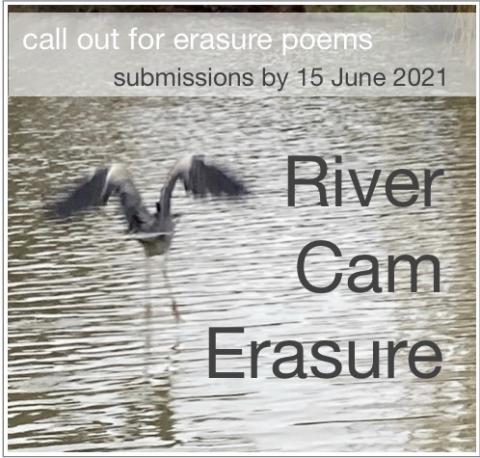 I'm poet and activist Alice Willitts, inviting you to write erasure poems to mark the occasion. Erasures because this poetic form symbolically reflects the erasure of the precious chalk stream habitat the city's water is drawn from. Erasure because by taking words away, we regenerate corporate text into language that is alive with meaning. The text we will be erasing is the foreword to the Anglian Water's Pollution Incident Reduction Plan 2020-2025 (text is below).
If you're new to erasures, a good guide to writing erasure poetry can be found here: https://ypn.poetrysociety.org.uk/workshop/erasure-poems-a-challenge-with...
This is a collective act, working together on the same text, to reveal the many voices that care about the River Cam, about water quality and about putting nature on an equal footing with commerce when providing water to citizens. My intention is to collate our erasure poems and in the first instance send them to the Environment Agency and Anglian Water. It may be appropriate to read some of the erasures at the ceremony on the 21st so please indicate in your submission if that's something you'd like to do yourself, or have your poem read out. In large part, what I can do with the poems will depend on what you all send in but I'll keep you informed as it develops. Work submitted will be made public.
Submissions until noon on 15th June 2021 to Alice Willitts RiverCamErasure@gmail.com
All medias and formatting accepted: word, pages, PDF, RTF, plain text. Please send photographs of original artwork as jpegs.  
If you have any questions on the erasure callout contact poet Alice Willitts RiverCamErasure@gmail.com
Please use this text for erasure:
As a monopoly provider of water and water recycling services to almost seven million people across the east of England and Hartlepool, we have a clear-cut duty to safeguard – and indeed to enhance – our environment. One of the most important contributions we can make is to ensure that our activity does not contribute to environmental pollution. In words borrowed from the medical profession: first do no harm. Caring for our environment is so fundamental to the way we operate at Anglian Water that we have built our commitment into the fabric of the company, in 2019 becoming the first major utility to change our Articles of Association to enshrine public interest for the long term. So I want to be clear from the outset that we regard any pollution incident taking place in our region as one too many, and we are wholeheartedly committed to reaching zero pollutions. Customer expectations in this area are rightly high and we must rise to meet them. Yet we acknowledge that elimination of all pollutions cannot be achieved overnight. First, we must address the challenges we face, which are recognised in our 25-year Strategic Direction Statement, and factored into our long-term plans for Anglian Water. Paramount among these are climate change and population growth, which both have an influence on pollution incidents. Our region is one of the fastest growing in the country, with rapid development leading to greater demand, and more water than ever passing through our recycling centres. The extremes of rainfall we are seeing as a result of climate change can cause huge and unpredictable volumes of excess water to enter our systems, while droughts can also impact water quality as waterbodies, and the biodiversity they support, become more sensitive when levels drop. The landscape of our region has a part to play too – low-lying, largely rural, and with slow-flowing rivers, meaning that any pollution that does occur can be slow to clear. However, we recognise that external challenges are not the only causes of pollution in our region, and our plan addresses the role our people, our customers and of course our infrastructure assets can play in putting a stop to pollutions. Preventing pollution, and tackling it where it occurs, forms part of the daily dialogue at operational meetings at all levels. When incidents do occur, root cause analysis takes place to ensure we learn the lessons from what has happened; I personally oversee the findings from all investigations into every single serious pollution. For the first time, this plan sets out tangible and achievable steps to help us towards our goal of eradicating pollution incidents from our region, and gives us the tools we need to measure and track our progress. It's also a document designed to be shared with our customers and other interested parties, to show that we are being transparent both about the issues, and about what we are doing to address them. It sets out how we will tackle pollutions via a nine-step model which includes a range of measures, from innovative early warning processes and preventative measures, through to customer education programmes and training for colleagues. We are committed to sharing what we learn through carrying out the plan with our fellow water companies in a spirit of openness and transparency and, in return, to learning from examples of best practice elsewhere. By working together we can drive real progress, protecting and enhancing our environment for current and future generations to enjoy.
If you'd prefer to work from the original source, here's the reference.
https://www.anglianwater.co.uk/contentassets/0e50eef7ef2a4630b31220d3351...