An early poem for the Cam
Posted on:

1 July 2021

By:

Tony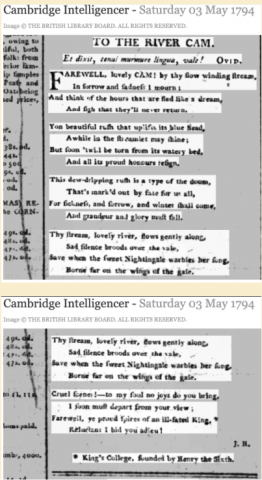 Antony Carpen, community historian has dug up a poem about the Cam from the lat 18th Century. Antony says: "A very old poem published in one of Cambridge's earliest newspapers, the Cambridge Intelligencer was a short-lived radical newspaper active at the very end of the 18th Century. I spotted this poem about the River Cam in it, which will be of interest to today's generation of residents and campaigners who very recently gathered to declare the Rights of the River Cam in June 2021."
              TO THE RIVER CAM
"Farewell, lovely Cam! By thy slow winding stream
In sorrow and sadness I mourn;
And think of the hours that are fled like a dream,
And sigh that they'll never return.
Yon beautiful rush that uplifts its blue head,
A while in the streamlet may shine;
But soon 'twid be torn from its watery bed,
And all its proud honours resign.
This dew-dripping rush is a type of the doom,
That's mark'd out by fate for us all,
For sickness and sorrow, and winter shall come,
And grandeur and glory must fall.
Thy stream, lovely river, flows gently along,
Sad silence broods over the vale,
Save when the sweet Nightingale warbles her song,
Borne far on the wings of the gale.
Cruel scenes! – to my soul no joys do you bring,
I soon must depart from your view;
Farewell, ye proud spires of an ill-fated King*
Reluctant I bid you adieu!"
J.H.
*King's College, founded by Henry the Sixth.